"Once more unto the breach, dear friends"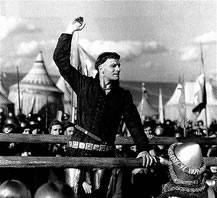 In which our valiant hero again attempts to conquer the enigmatic lands of predictive analysis.
Miami Heat (-12.5) versus Milwaukee Bucks
The Heat, as per usual, have not had a strong start to the season.  However, with Larry Sanders expected to miss the next six or so weeks, LeBron James and Dwyane Wade should not have too difficult a time finishing through the Milwaukee defense. At least Sanders thumb did the world a service before its demise:
Washington Wizards (+6.5) at Dallas Mavericks
Coming off what may be their best game of the year, an overtime loss to the Thunder, Washington looks to take advantage of a mediocre Dallas defense.  Through eight games the Mavericks have surrendered 106 points per 100 possessions.  While Washington has been no better on the season, the integration of Marcin Gortat has slowed their progression towards last season's levels. While the absence of Emeka Okafor removes the anchor of what was a top five defensive unit, Washington retains the surrounding personnel.  Okafor, while good, is not irreplaceable.
Detroit Pistons (+10) at Golden State Warriors
Despite two recent losses, the first without Steph Curry, the Warriors have impressed to start the season. Detroit, contrary to expectations, has overcome spacing issues on offense, scoring 105.5 points per 100 possessions. Detroit, on the second night of a back to back, appears unlikely to win in Oakland, but has the interior defensive presence to mitigate the chances of a dramatic blowout.
New Orleans Pelicans (-2) at Los Angeles Lakers
While the Pelicans have suffered through offensive and defensive inconsistency to begin the season, they have one significant advantage over the Lakers: good players.  Los Angeles has done a good job embracing the high variance strategies optimal for underdogs, gunning threes and gambling defensively, but has already lost to the Pelicans, and does not have the defense to contain New Orleans' bevy of creators.
Also of note: