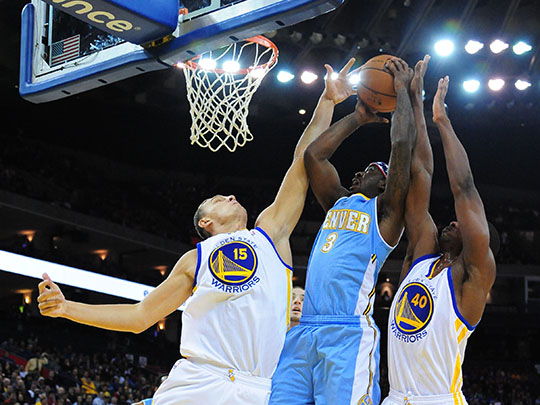 (Written for Blue Man Hoop)
Western Conference Player of the Month Stephen Curry and the Warriors enter Denver to kick off their 3rd playoff series in the last 17 years.  The Nuggets, 57-25, finished the season with the league's 5th best point differential despite having the 10th most difficult schedule according to basketball-reference's rating system.  The 6th seeded, 47-35 Warriors finished with the 11th best point differential after playing through the 11th most difficult schedule.  At 38-3, the Denver Nuggets had the league's best home record during the regular season.
The Warriors lost the season series to Denver 3-1, including a 101-107 double overtime loss in Oakland, however Andrew Bogut did not play in any of their meetings.  Additionally, the Nuggets will be without forward Danillo Gallanari, who suffered a season ending ACL tear, and possibly without Kenneth Faried, who suffered a severe ankle sprain.  The Nuggets hope to replace Gallanari's production by increasing the offensive responsibility of Andre Iguodala, Wilson Chandler, and, in the last few games, rookie Evan Fournier.
Though both are known for a quick pace, the Nuggets and Warriors are surprisingly dissimilar teams.  The Nuggets played the second fastest pace in the league at 95.1 possessions per game, while the Warriors were 4th at 94.5, according to basketball-reference, however they vary greatly in most other facets.  This game, and much of the series, may be determined by a team's ability to control the rebounding battle.  The Nuggets finished with a league-leading 31.4 percent offensive rebound percentage, however the Warriors may be equipped to limit the Nuggets extra possessions, as the led the league with a 75.5 percent defensive rebound percentage after finishing last in the 2011-2012 season.
The Nuggets and Warriors also differ in offensive strategy.  Denver attempts the most shots at the rim per game and struggle from deep, while the Warriors tend to focus on finding threes, often at the expense of aggressiveness to the paint.  The Nuggets appear to be especially concerned with Steph Curry.  Nuggets point guard Ty Lawson told the Associated Press, ""Just be physical with him. He wants to shoot, so don't give him too much space. Just make him drive. Even when he does drive, he wants to step back and get a jump shot."
Though the Nuggets will focus on Curry, Klay Thompson will be key to a Warriors' victory in the series-opener.  The Nuggets will likely Andre Iguolada, one of the league's premier defenders, onto Curry, often leaving Thompson matched up with smaller guard Ty Lawson.  Thompson's ability to score on Lawson will help the Warriors dictate matchups throughout the series, and is especially vital on the Nuggets home court.